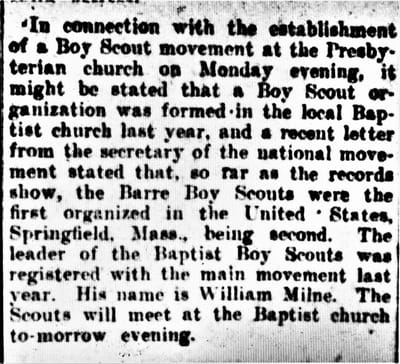 THE BOY SCOUTS OF AMERICA (BSA) INCORPORATES
Although the Boy Scouts of America became incorporated on February 8, 1910 they had no members or leaders, just a legal right to the name and trademarks. Nothing was being done to build and grow a formal scouting organization
ENTER THE YMCA AND THE YMCA SUMMER CAMPS
Edgar M. Robinson, was an executive with the YMCA (Young Men's Christian Association) holding the position of Secretary of the YMCA's International Committee, which governed all the YMCA branches located in Canada and the United States. His office was located in New York City
In 1909 the YMCA had 400 summer camps which offered camping programs to 15,000 boys and as there had been a great interest in adding scouting programs from many of these camp leaders. Robinson planned on adding such programs until he found out in the spring of,1910 that a Chicago publisher, William Boyce already had the legal rights to the future of the scouting movement in America.
YMCA's ROBINSON MEETS WITH PUBLISHER BOYCE IN CHICAGO
Arrangements were made for E. M. Robinson and W. D. Boyce to meet in Chicago in the Boyce Building in May, 1910.
At this meeting, Robinson laid out his plans to build and grow the Boyce BSA organization at the up and coming 1910 YMCA summer camps in North America with a financial support commitment from Boyce. He agreed and presented Robinson a check to get things started. He pledged to donate $1000.00 a month as support to maintain the new organization.
BSA OFFICES OPEN ON JUNE 1, 1910 IN NEW YORK
Upon returning to New York, Robinson recruited a small staff to set up an office in the YMCA Building on East 28th Street.
The first organizational meeting to take the program to the YMCA camps occurred in New York on June 15th. At this meeting the YMCA camp directors and executives attending were provided with programs for adding "scouting work" into their 1910 summer programs.
YMCA CAMP ABNAKI July 1-20, 1910, NORTH HERO, VERMONT
One of these charter member BSA attendee's was the Vermont State YMCA Secretary, Byron N. Clark who founded the YMCA Camp Abnaki in Vermont in 1901.
B. N. Clark besides being state secretary and camp director, was also very involved in the Burlington, Vermont community. Because of his leadership abilities he was chosen to become the first Vermont State Scout Commissioner.
CAMP ABNAKI, VT vs. SILVER BAY, NY
The First BSA Scout Camp in America was not Silver Bay at Lake George, New York
The YMCA-BSA Camp Abnaki, at North Hero Vermont, opened first for their summer program on July 1, 1910.
To add new programs of scout work to Camp Abnaki Director and Vermont State BSA Commissioner Clark would enlist the help of Barre's, William Foster Milne, who already had been growing scouting in Central Vermont.
It was at this camp in July, 1910 where the Barre, Vermont boys of Troop 1 and W. F. Milne signed onto the new BSA program, making Barre, Vermont's Troop 1 the official First Boy Scouts of America (BSA) Troop.
(See above article from "The Barre Daily Times", 11/09/1910 page 5)
Silver Bay, on Lake George, NY opened with their scout work on August 18, 1910, a month later than the YMCA program at Camp Abnaki, VT.